Smart Space
"Smart Space" describes environments that allow services and solutions to be seamlessly accessed and interacted with across the boundaries of areas of life.
Read more
Autonomous Systems
Autonomous systems consist of robots, intelligent and communicating machines and devices as well as software components that solve complex problems independently for and often with humans. They are being applied in all fields of the digitized world requiring a high degree of reliability and robostness.
Read more
Predictive and preventive Cybersecurity
IT infrastructures are threatened 24/7 and require defenders that are vigilant at every hour of every day.
Read more
Predictive & Preventive Health
The goal of predictive and preventive health is to predict the probability of future diseases and to prevent or at least delay the onset of diseases through targeted prevention and intervention measures.
Read more
Invisible Interaction
To preserve privacy and general user acceptance, new forms and modalities of interaction must be developed. One promising modality is gesture interaction. Especially the use of micro finger gestures, which are simple and inconspicuous to execute, represent a promising interaction.
Read more
Mobility of the Future in Complex Urban Environments
Urban mobility consists of various modalities that will act intelligently in the future, drive autonomously and be networked with each other and with the infrastructure.
Read more
DAI-Labor

Distributed Artificial Intelligence Laboratory
The DAI-Labor and the chair "Agent Technologies in Business Applications and Telecommunications" at the Technische Universität Berlin under the direction of Prof. Dr. Sahin Albayrak is researching distributed artificial intelligence. Autonomous entities equipped with artificial intelligence (AI) communicate and cooperate with each other to enable a new generation of systems and solutions that are characterized by intelligence, autonomy, predictability, explainability, security and ease of use. We call this generation of systems autonomous systems, which are tested in real environments and show a high degree of utilization.
Our Testbeds
State-of-the-art testbeds allow for validation and demonstration of these services in realistic scenarios. Close cooperation with industry partners ensures an approach that is both practical and solution oriented.
Our Structure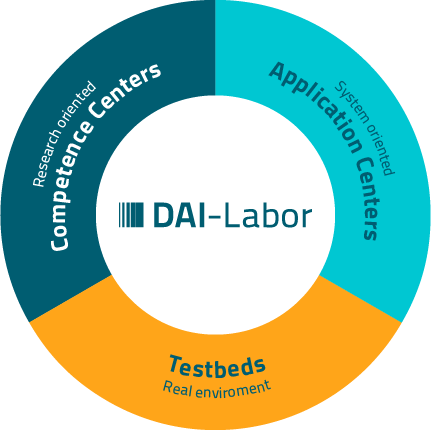 Research at the DAI-Labor is based on three pillars. The scientific foundations are developed in the competence centers. Here, expertise in various fields of research is provided. The Application Centres use this basis to develop interdisciplinary system solutions that directly or indirectly benefit a user. The third pillar are practical testbeds which serve the validation of the developed solutions as a tangible system.