DAI-Labor

Distributed Artificial Intelligence Laboratory
The DAI-Labor and the chair "Agent Technologies in Business Applications and Telecommunications" at the Technische Universität Berlin under the direction of Prof. Dr. Sahin Albayrak is researching distributed artificial intelligence. Autonomous entities equipped with artificial intelligence (AI) communicate and cooperate with each other to enable a new generation of systems and solutions that are characterized by intelligence, autonomy, predictability, explainability, security and ease of use. We call this generation of systems autonomous systems, which are tested in real environments and show a high degree of utilization.
Our Testbeds
State-of-the-art testbeds allow for validation and demonstration of these services in realistic scenarios. Close cooperation with industry partners ensures an approach that is both practical and solution oriented.
Our Structure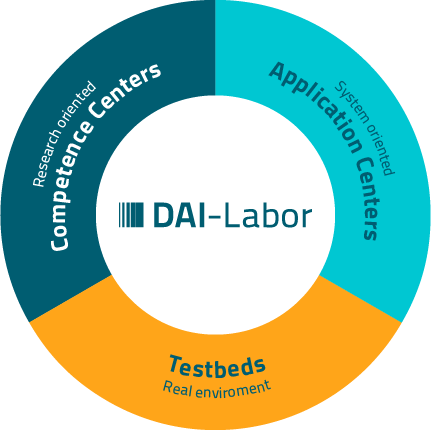 Research at the DAI-Labor is based on three pillars. The scientific foundations are developed in the competence centers. Here, expertise in various fields of research is provided. The Application Centres use this basis to develop interdisciplinary system solutions that directly or indirectly benefit a user. The third pillar are practical testbeds which serve the validation of the developed solutions as a tangible system.